Packing light for a weekend trip can be tough, but packing a single bag for a three month trip can be seriously intimidating. Luckily, I've been slimming down on all my possessions out of necessity since May 2019. My roommate moved out of our 2/2 apartment in Austin, Texas taking most of her furniture with her. A month later, I moved into a furnished room of a 3/2 house in Hyde Park for July. I whittled my possessions down to two trips in my Jeep Compass. By the end of the month, I was pretty much down to my clothing, my bikes and gear, and a rubbermaid bin of minimal kitchenware. After dropping household stuff off at my parents' house in South Carolina, we were really light in the car.
After another few months of traveling, I'm down to living out of a single bag - a 46L Osprey Porter. It has some pretty nifty organization - lots of internal pockets and I got it second-hand on eBay for about $80. My girlfriend found the same bag second hand locally in Charlotte, NC for $40. A lot of these types of travel bags are already out there in great shape, so I would recommend buying used. The Porter specifically also has really nice straps that go across the front and cinch down. It's been really easy to take carry on.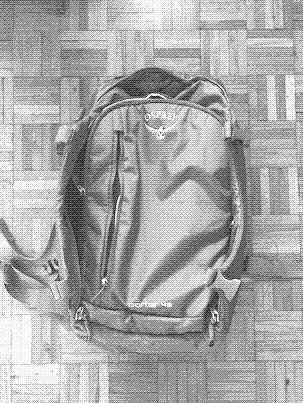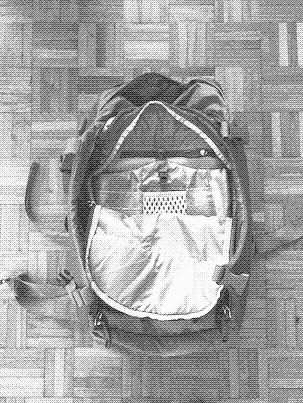 My trusty Porter bag and its internal organization
I can't say living out of a single 46L bag is easy and it took me lots of reflection to slim down to a small set of clothes. I know "minimalism" is in vogue, but I've developed a much greater sense of my own style and appreciation for variation. My packing was also a bit easier because I had already been living without a real, single home base since July. I currently have on me and wear the following.
Bottoms
Everlane Air Chino pant: My family got me these pants a few years back for Christmas and they quickly became my go-to pant in almost all weather. Over 100F degrees in Austin, these work great. They also worked in 40F degree days in Toronto, but I wouldn't recommend them in the rain.

Thrifted Paul Smith black denim jeans: Found these in a thrift shop in Wicker Park, Chicago. I had never heard of Paul Smith until I came across the Paul Smith store on Bree Street in Cape Town. Coincidence, no doubt.

Black Nike running pants: Not sure which ones, I found them on sale in the amazing Nike outlet in Mississauga outside Toronto. Comfy for flights/coldish weather.

5" Patagonia baggies: Have had these forever. They work as a style short, gym short, running short, swim trunk, and everything in between. Patagonia's repair policy also rules.

Patagonia trail running shorts: A bit more technical, I wear these to death and are the only pair of dedicated running shorts I packed. I rinse them out after every run and they're ready for the next day.

GAP olive chino shorts: These have holes in them and I've replaced them with some locally made shorts from here in Cape Town. Since we're heading to Italy in the Spring, these can be donated but served me well the first month traveling.
Tops
My girlfriend's Patagonia nanopuff: The packability is unmatched. Have only worn it a handful of times, but it will be useful in Europe.

A thrifted Zara sweater: $7 CAD at Value Village in Landsdowne. Probably the best/most versatile midweight/lightweight layer I packed.

A thrifted Patagonia capilene longsleeve: Not needed much in Cape Town summer, I'm holding on to this for cold European weather. It's cozy and comfy.

Nike running sweater: Also found at the Nike outlet, this is more for running and to wear when the Zara sweater starts to smell...

My favorite button down/"flannel" like layer: From some random brand, I found this for a few dollars at the Goodwill off Lake Austin Boulevard in Austin. Works in too many situations to enumerate, from hiking to dressing up a t-shirt for a jazz show.

One longsleeve grey t-shirt

One white t-shirt: Bought for $1 at the PTA Thrift store in Carrboro, NC. Has some cool diving flags and says "Saint Martin." Looks nice enough. :-)

One grey t-shirt

One black t-shirt: I run in this shirt but also wear it around if it's not dirty. I bought a second black t-shirt for ~$4 because I'm likely going to donate a few of the shirts I packed.

One olive t-shirt: Really pilled/worn out, probably also found at the Lake Austin Goodwill.

One quick-dry grey running t-shirt: I've since given to my girlfriend

Two sleeveless running t-shirts
Underwear
Two pairs of Patagonia briefs

One pair of Patagonia quick dry boxers

Two extra pairs of underwear, one boxer, one brief

One pair of Stance boot socks (big fan of the tie-dye Grateful Dead line)

Two pairs of grey boot socks

Two pairs of black running socks

One pair of green running socks
Shoes
Blundstone boots: I wear mine with shorts, pants, whatever. I wear them every day, in all conditions.

Converse All-Stars: I actually sent these home with my girlfriend's family when they left South Africa.

Asics DynaFlyte 4: This pair is my current road running shoe, I dig them and they're lightweight. I wear them on walks, runs, and as a style shoe, but after tackling some of the more technical trails here in Cape Town, I invested in a pair of Salomons.
Miscellany
I packed my favorite Ciele running hat, a gifted Roots travel scarf, and I picked up another hat on a road trip between Graskop and Johannesburg at the Birds of Prey Rehabilitation Center in Dullstroom. I packed my Suunto Ambit3 Sport running watch, along with a few other accessories like a digital camera purchased on eBay and a spare burner cell phone. My girlfriend's mom also gave me a packable backpack from Target that has been great for daily use or fitting bulkier items like trail shoes/jacket/neck pillow when transferring.
Additionally, I packed a Wahl electric razor and it has been a godsend. I don't shave too often, but it's nice to stay neat and not have to use manual razors. I picked up a small container of clipper oil which has prolonged its longevity. Would highly recommend this as a small "comfort item." Other toiletries include a travel sized bottle filled with Kiehl's shampoo (the only real beauty product I treat myself to) and an electric toothbrush. My girlfriend and I share the base and use our own toothbrush heads. Works great, really.
A stick of palo santo wood has been really helpful when warding off smells and providing cleansing energy. I'm aware of some of the problems that purchasing palo santo creates, so before you consider buying - do your research on where it's been harvested, how it's been harvested, if it's been dried properly, and if you're buying from someone who knows the traditions of this wood.
Electrical tape is useful to travel with but you can pick a roll up anywhere in the world for tens of cents. All sorts of charging cords have started to fray on me and my Suunto watch strap ripped in half - all repaired with electrical tape.
Reflections
I've found that I can rotate enough to keep everything clean-ish. I've found wearing things a few times and not smelling like fresh laundry every day is alright, especially traveling. Having a few extra t-shirts may have been nice. It's been harder than I expected to find good, second hand clothing. I was planning on picking up a pair of sandals to supplement my shoes for just our time in Cape Town, but decent chanclas that aren't new/expensive have been hard to find. On evaluation of my packing list, I brought a lot of Patagonia gear. It's easy to wash, fits a variety of uses, and can be dressed up or down. If you're in the market for new gear, and your gear is probably fine, buy Patagonia second hand (except maybe underwear). It will likely be in great shape and if it has small nicks or imperfections, Patagonia will repair it for free.
Let's also talk packing cubes. Ariana's mom found several sets at her local Marshalls and presented us with a gamut of choices, the ones we didn't need were returned. All of my tops with the exception of my Zara sweater and button down fit in one packing cube. All my underwear and socks fit in another. My sweatpants, Patagonia baggies, and trail running shorts fit in a third, much smaller one. Medications and electronic accessories like chargers fit in two more, and my toiletries go in a dopp kit my sister bought me for my birthday countless years ago. Style shorts and pants are rolled up and stuffed in, no problem. Packing cubes are a game changer, they take some practice to maximize efficiency, but really do help.
This post is part boast, part how-to. It's possible to pack this light, and I argue I could pack even lighter if I was up to doing wash more often. We'll likely have to reconsider clothing when we get to Europe, ditching our summer clothing for more sweaters and additional pairs of pants. For as much hiking and running Ariana and I do, one set of running clothes has actually been fine. We're lucky that Cape Town has a nice breeze and lots of sun to line-dry our wash.
In summary, solid colored clothing goes a long way. Plain colored t-shirts make it easy for people to forget that you've worn it multiple times. Underwear can be washed and line dried easily, as can running clothes. Running shoes can be doubled up as style shoes. Sandals aren't really necessary. One sweater usually will suffice, as will a single good pair of running shorts. Pack clothing you wouldn't be sad to lose or stain. Packing cubes and packable backpacks are incredibly useful. And finally, you really need a lot less than you think.