The Ruffy Tuffy is a 28mm bicycle tire that has a slightly beefier tread than a normal road tire and reinforced, beautifully tanned sidewalls. The sidewall is bare of any branding with the exception of a small bit of Ruffy Tuffy text and an iconic logo of a rhino's head, which as any bike mechanic worth their salt knows, must be aligned with the valve hole of the rim of the wheel for a dialed professional look. The milliseconds saved locating the valve by finding the rhino truly add up over this tire's long lifespan, let me tell you.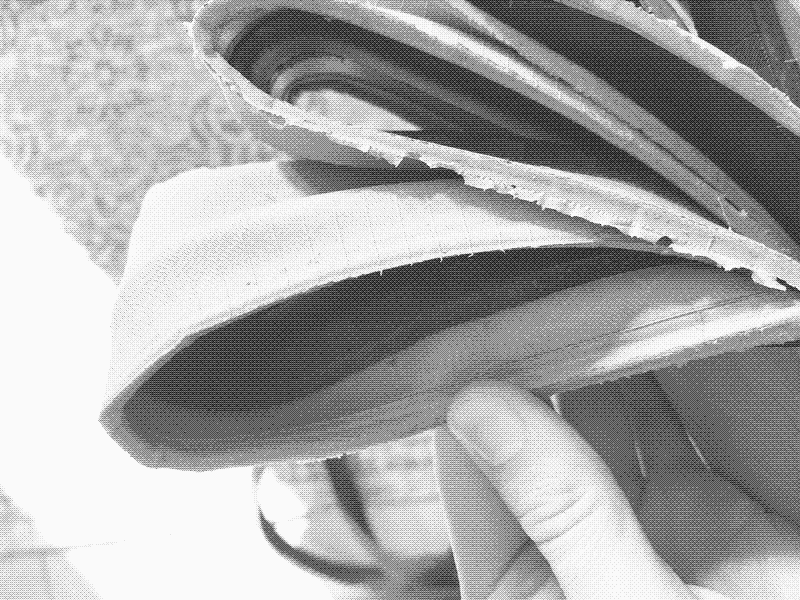 The thicker tread and tan sidewalls of the Ruffy Tuffy
The Ruffy Tuffy was the product of a collaboration between Panaracer, a popular Japanese tire manufacturer, and Rivendell Bicycle Works - an eclectic purveyor of "lugged steel bicycle frames, wool cycling clothes, cotton bike luggage, and leather saddles." I could do a deep dive into the lovely world of Rivendell, but that's a subject for another thought piece. The Ruffy Tuffy tire is an eccentric tire choice and radiates Rivendell's self-aware eclecticism. One of my good friends put it best with his constant taunting on early morning training rides, "What are thoooose?!!"
I first encountered the Ruffy Tuffy tire in Cycleast, a bike shop in the now grossly-gentrified east side of Austin, Texas. Cycleast and its space-sharing neighbor Flat Track Coffee Roasters form a synergetic business cultivating a vintage moto aesthetic and a friendly, knowledgeable, community bike shop. One may argue the original vibe of the joint has been altered by the hordes of marketing professionals holding court in the coffee shop from the cross-the-street neighbor Outdoor Voices's corporate headquarters, but the coffee isn't any less strong around the presence of athleisure-wearing twenty-something female Millenials. Most people visit Cycleast in lycra, anyway. Russell Pickavance, a co-owner of Cycleast, put me on to Ruffy Tuffys when I came into the shop one day. He told me they "don't corner like a Corsa," referring to the supple Vittoria race tire - of which I had recently shredded three in a single season. Blake, another co-owner of Cycleast and overall top chap, had dubbed me the "destroyer of tires" after I put a nail through a Michelin Power Protection Plus. After my misfortune with flat tires, Russell handed me a gift. Over the next several years, 2017 to 2020, I put countless miles into that set of road tires.
The tire is now discontinued, and I'm not sure the duration of the Ruffy Tuffy manufacture run, but I believe that Cycleast currently owns the rest of the existing stock of tires. Last I heard, they are in a box hidden in the shop somewhere. I doubt whether Cycleast would even sell these tires to the general public any more and sometimes I feel like I was secretly knighted into some bizarre bicycle fraternity due to dumb luck.
Reviewing my own life over that of these tires is humbling. In my twenties, I've molted a few times. When I first put those tires on a set of wheels, I was new to the cycling scene in Austin. When I think of the iterations of bikes those tires saw, I think of the people that I met on each of those bikes. I remember finding a new level of road fitness and seeking out teams of people to push myself and make longer rides more comfortable. One Saturday on a ride with the infamous Team Yacht Club, we hit a patch of dirt road between San Marcos and Lockhart. There was some grumbling in the group, but I couldn't help but smile. I had 28mm Ruffy Tuffys. I was so proud of my beautifully clean Ritchey, I even attempted to refine my skill in taking bike portraits. Pieces of the Ritchey still survive on my bike today.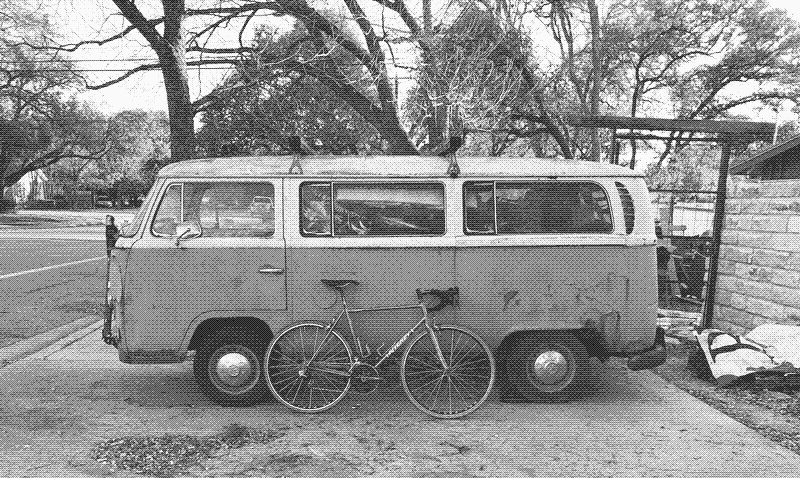 My much-loved Ritchey Road Logic, Shoal Creek, Austin, Texas, December 2017
Searching for more information on these new magical tires, I searched Ruffy Tuffy on everyone's favorite bicycle social media status platform, Instagram. A guy I had seen around town, Cole Weldon, posted as @ruffytuffycrew. Who was this Cole Weldon character? What exactly is this Ruffy Tuffy Crew? Clearly if they were more fans of these tires, we must have more in common. I ran into Cole by chance one morning at Cycleast before a ride I'd planned northeast of town out to Taylor to check out a curbside espresso cafe. The two of us linked up, had a spooky October ride filled with blackbird murmurations and a few secret groads. Cole and I ended up doing a lot of training together for the Troublemaker Edition of Dirty Kanza 200. Twenty of us usurped the Kanza lottery system in 2018 and rolled full send across the flint hills of Kansas six months later. Cole and I became pretty good friends during that training cycle and decided to do a run of cheeky kits as Ruffy Tuffy Crew. I decided to run an eBay shop under Ruffy Tuffy Customs. It just seemed fitting to praise a bit of kit that enabled so much quality riding.
The Ruffy Tuffys survived many of my bicycle iterations. I built up a Salsa Warbird for more serious gravel racing and in between races, slipped the Ruffy Tuffys on hoops from LightBicycle. I sold my Cannondale and my Ritchey Road Logic to the illustrious Dave Gordon, and built up a Trek Emonda ALR disc with the wheels from the Salsa. The Ruffy Tuffys were the perfect tire for the big winter miles I put on my Trek. I often swapped them with 28mm Continental GP4000s during the week. Intervals Tuesday, Wednesday openers, Driveway crits on Thursday night, long rides depending on the wind Saturday and/or Sunday. That was how my life went with Ruffy Tuffys. Eventually I sold the Salsa, too, and decided to break from my routine. I left my job in Austin to shake the dust, taking my Ruffy Tuffys with me to Canada. I almost gave them to my girlfriend, but her bike didn't fit them. I left my home and tires to travel for a few months and returned with almost divine timing. Ariana and I flew home from living abroad to the US right as Trump publicly announced a global travel ban. Now living in South Carolina with my family during quarantine, I mounted the Ruffy Tuffys once more to explore the vast flat fire roads of Francis Marion National Forest. I was thrilled to squeeze a few more hundred miles out of them. After a few flats, sewing a sidewall, and noticing the bare tread, I think it may be time to let them go.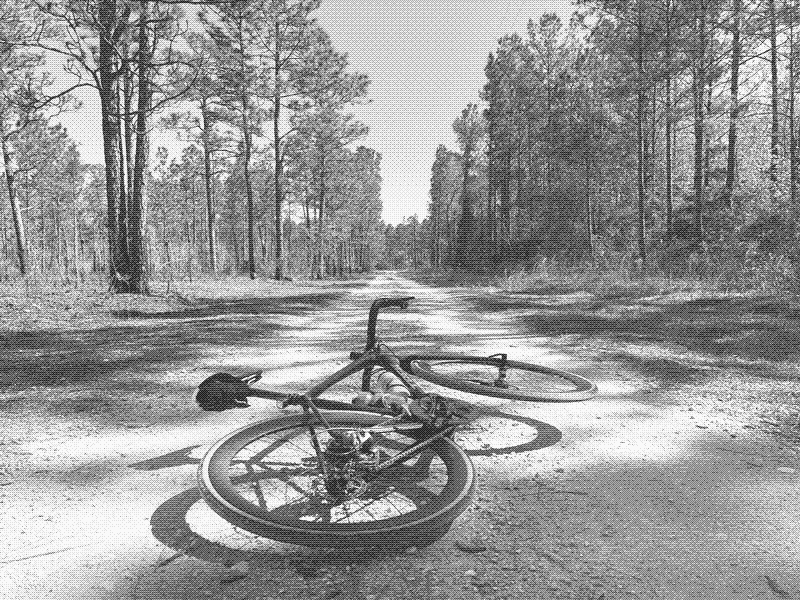 My Trek Emonda ALR with Ruffy Tuffys on the forest roads of Francis Marion National Forest, South Carolina